Zodiac compatibility
Discover how our zodiac compatibility test can help you maximize your romantic, platonic, and business relationships. Learn how the stars align with your personality and how well you get along with others. For a thorough zodiac compatibility test, our experts consider not only the sun sign but also the moon sign and the rising sign of both individuals. Learn the underlying dynamics at play in your relationships and gain insight into things like compatibility, communication, emotional bonds, and more. And simplify all this by using our zodiac compatibility calculator, which can help you find happiness and success in any relationship. Do not leave your relationships to chance; instead, consult the stars with the Nebula Zodiac Compatibility Test now!
Choose your zodiac sign
Compatibility chart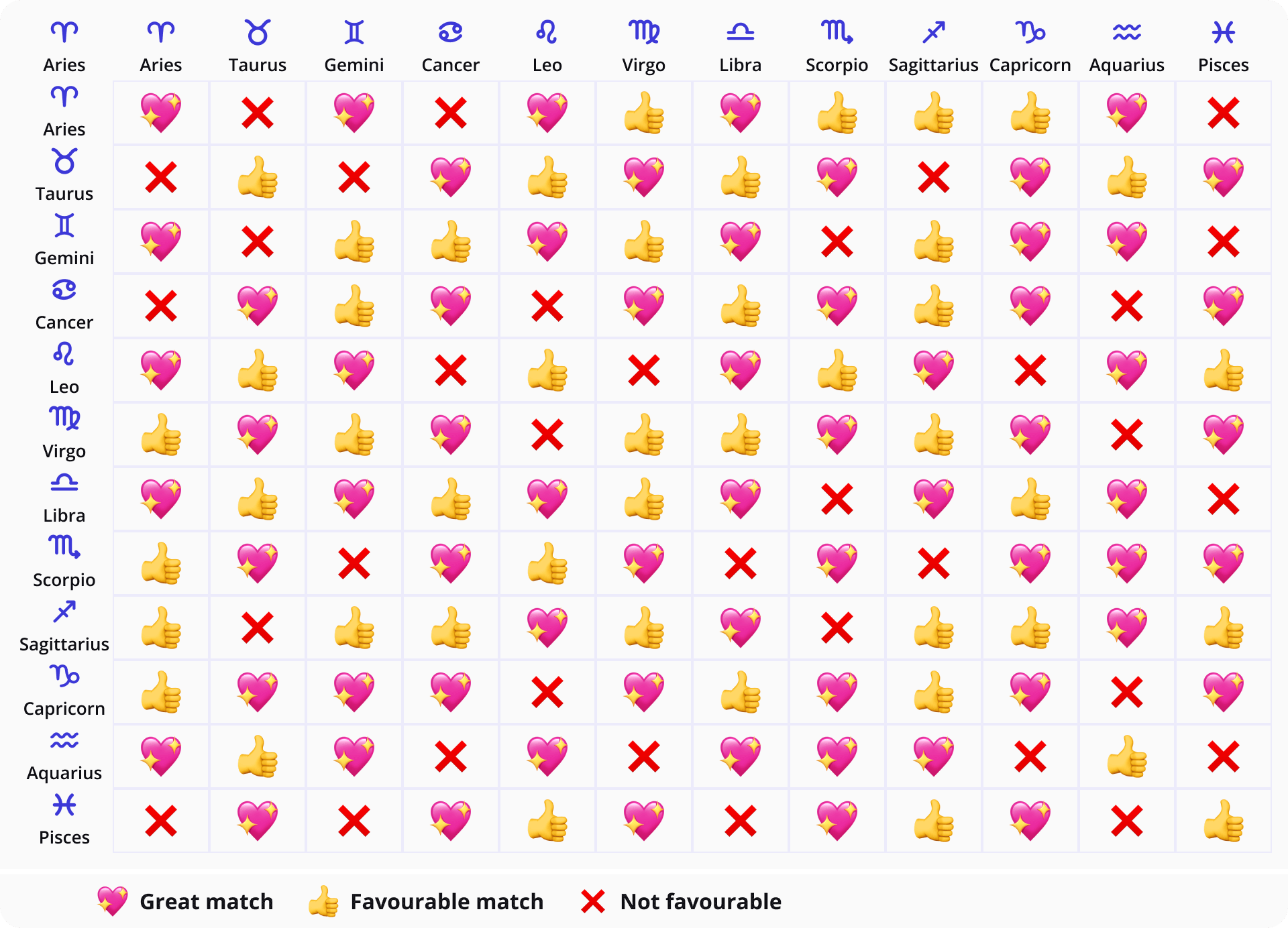 We provide you with the finest zodiac compatibility services, and in an effort to do so, we make it easier for you to explore our zodiac compatibility chart. The way you look for astrological compatibility will change once you have access to our comprehensive Zodiac Compatibility Chart.
Our compatibility chart is graphically simple yet highly informative. When calculating compatibility, we take into account not just the sun sign, but also the moon sign and the rising sign as well. This holistic method uncovers hidden dynamics that simpler methods can miss.
Moreover, we have thoroughly researched to develop our chart. Our astrologers and psychics have spent a great deal of time perfecting our method, so you can rest assured that the predictions you receive are accurate and based on sound astrological theory.
So, go ahead and use our excellent Zodiac Compatibility Chart as your starting point for a life-altering adventure into the cosmos.
Astrological elements
Nebula is your go-to tool for discovering the mysteries of the cosmos through zodiac compatibility and knowledge of astrological elements.
You can explore the fascinating field of astrology and learn how various factors have a dramatic impact on your life by using Nebula. Learn how the dynamic interplay between the fire, earth, air, and water signs influences your character, feelings, and interactions with others. 
Explore all your elemental strengths and weaknesses, as well as your untapped potential. Learn how each factor influences your ability to communicate, make decisions, and get along with others.
It does not matter if you are a fiery pioneer, a grounded nurturer, a free-thinking idealist, or an intuitive empath; Nebula will lead you on a life-altering voyage of self-discovery regardless of your personality type.
So, join us and see how we unlock the astonishing power of astrological elements to put yourself on the road to growth and success!
Fire

Signs: Aries, Leo, and Sagittarius

Zodiac signs whose element is Fire are passionate, dynamic constantly on the go; some even describe them as restless. But with the right sign by their side (ideally, a fellow Fire or an Air sign), they thrive.

Water

Signs: Cancer, Scorpio, and Pisces

Water signs—Cancer, Scorpio, and Pisces—have unparalleled emotional depth and the ability to care for their partner like no other element. Water signs appreciate a comfortable and aesthetically pleasing environment, so they make fantastic home-makers.

Earth

Signs: Taurus, Virgo, and Capricorn

Earth signs are sensual and, unsurprisingly, down to earth. Capricorn, Taurus, and Virgo are all wonderfully practical and stable. Their partner will always feel secure and cared for, although the relationship with an Earth sign is rarely very emotional.

Air

Signs: Gemini, Libra, and Aquarius

Air signs are communicative and spontaneous, with a unique, mysterious allure to them. They seek cerebral connections and are never surface-level. Not everyone can keep the attention of an Air sign, but those who can are never bored.
Love astrology reading
Contact one of our advisors to get clarity on your life path, feel more confident about the future, and simply get a non-judgmental reading with sensible advice on your love, career, finance, and other areas of life. Our advisors use a complete arsenal of helpful psychic tools and techniques that let them peek behind the curtain and discover what the future holds. Each of them is a professional who knows exactly what to do to answer all of your questions and offer you the guidance you need.
online

I am an EXPERIENCED TAROLOGIST and parapsychologist - Morgana, ready to talk about all t...

online

Feminine power activation

Since I was a little girl, I always knew it in my heart that I wanted to help people. So...

online

Hi! I'm Alice, I'm gonna help you no matter what situation you end up in today. I'll sh...
Frequently Asked Questions
How accurate is zodiac compatibility?

Zodiac compatibility analysis is extremely accurate, especially when ordered through a gifted and skilled astrologer on Nebula.

How to check zodiac compatibility?

You can check zodiac compatibility by using different compatibility calculators on Nebula. Alternatively, you can order in-depth reports from gifted psychics and astrologers to find guidance in life.

How accurate is Chinese zodiac compatibility?

Chinese zodiac compatibility is quite accurate today, though traditional principles and astrology upon which Chinese zodiac compatibility is founded are not foolproof.

How important is zodiac compatibility?

Zodiac compatibility is an interesting and entertaining topic of discussion in romantic relationships. Despite its lack of scientific validity, it can be an interesting way to learn more about other people and start meaningful interactions.

What zodiac signs are compatible?

Compatibility between zodiac signs can range widely from one astrological tradition to another. But, some of them are considered compatible, such as:

Aries and Gemini
Taurus and Cancer
Leo and Libra
Virgo and Capricorn
Pisces and Scorpio
Finding love and making your relationship work can be quite demanding at times, especially when you have less compatibility with your partner. That is exactly why many people use a birth chart compatibility calculator to get an idea of how well their relationship would work. But, is it really a good idea to use just any astrology compatibility calculator that considers your date of birth or horoscope to give readings? It definitely will if you use all the resources and compatibility test astrology services available on Nebula!
Witness the Power of Nebula Zodiac Compatibility!
Here at Nebula, we endeavor to make your relationships work perfectly by offering in-depth compatibility test zodiac and astrology. By choosing us, you will be at the internet's premier destination for accurate psychic readings and astrological insight.
We are dedicated to giving you one-of-a-kind, genuine encounters that aid in navigating your life, relationships, and development. Nebula's Zodiac Compatibility service is one of our most popular features, and a zodiac compatibility test will help in case you feel confused before calling the shots in a relationship.
So, go ahead, connect with one of our specialists, and see how the zodiac signs compatibility test can change your life for the better! 
Understanding All about Zodiac Compatibility through Horoscope 
Zodiac compatibility is an old astrological method that examines couples and friendships through the lens of their zodiac signs. You can learn about your personality, habits, and even your love life based on the sign that best fits your birth date. You can learn a lot about yourself and the people around you by observing how your sign interacts with other signs, and it is all based on your date of birth and your horoscope. 
Benefits of Zodiac Compatibility Checking
So many people now show interest in learning about love compatibility based on a zodiac sign, and that is why Nebula is among the most popular platform to find love psychics and improve your relationship with your partner. 
The truth is that learning about love and zodiac compatibility can help in many ways:
Understand Your Love Compatibility
One benefit of compatibility analysis is that it can show how you get along with people, leading to better communication, more empathy, and a deeper mutual understanding.
Know Yourself to Improve Your Love Life
Learning about your Zodiac sign's compatibility might provide insight into your behavior and preferences.
Make Major Life Decisions through Horoscope
 Zodiac compatibility can provide another layer of knowledge to help you make a more educated choice when making major life decisions like finding a life mate or a business partner.
When Is Nebula Zodiac Compatibility Service Useful?
Nebula's Zodiac Compatibility service is a goldmine of information that can shed light on any number of personal dilemmas and help you find the best love match based on zodiac signs. Here are some examples of when you might find zodiac sign love compatibility particularly helpful:
Personal Relationships
Finding a love interest and making your relationship work with your partner is not always easy. But, finding the best match and making your love life work smoothly is possible through love sign and partner horoscope analysis.
How Does Nebula Help with Relationships?
Zodiac compatibility is revolutionary in the field of romantic relationships. Zodiac compatibility can be helpful whether you are just starting out on the dating scene, are on the verge of making a lifelong commitment, or are looking for strategies to keep the peace in a long-term relationship.
The Effects of Nebula Compatibility Reading
Insights gained from zodiac signs can directly improve the quality of your love life because you will be in a better position to communicate with your partner and form stronger emotional attachments. This will directly help you have a stronger love relationship with your partner in the future.
Family Dynamics
The concept of zodiac compatibility revolves around your love sign and date of birth, but it is more than only for couples. Sometimes a good psychic can use your love sign and explain how to proceed when negotiating complicated family dynamics.
Witness the Scope of Compatibility
You can learn a lot about your partner through a horoscope reading. Still, you can also discover more about your relatives' personalities, interests, and communication styles by learning their Zodiac signs.
Professional Relationship Help
Zodiac sign compatibility can be an effective tool in the business world, as you need to have a rather close relationship with your business partner.
 How Does Nebula Compatibility Service Help?
If you are establishing a business with a new partner, leading a team, or attempting to find common ground with a difficult coworker, knowing their Zodiac sign can help. Simply looking into their zodiac sign can help you find out more about their work ethic, abilities, and reactions under pressure.
Having this information can boost teamwork and communication, and ensures that you have found the right match for the success of your business.
Personal Growth and Self Awareness
Compatibility based on zodiac signs or your horoscope won't just help you find a match, but it will also help you learn more about yourself as well as those around you.
 How Does Nebula Compatibility Service Help?
Learn more about yourself and the people around you by delving into the ways in which your Zodiac sign interacts with others. Having a better understanding of yourself can help you develop personally, which in turn boosts your relationships and happiness. 
Why Choose Nebula for Zodiac Compatibility Services?
 Undoubtedly, finding the right match or partner for a personal or business relationship can become challenging unless you have some knowledge about the personality of your potential partner. That is when you can consider their date of birth and horoscope to ensure they are the perfect match to establish a long-term relationship.
Experience the Power of Nebula!
Thankfully, Nebula is here to help you find all that assistance. Nebula stands out as the best place to check Zodiac compatibility among all the astrology sites out there. From love compatibility based on love signs to finding a perfect business match based on your partner horoscope, Nebula can help you with everything.
If you are looking for Zodiac compatibility, Nebula is the best option, and here are some reasons why:
Expert Analysis
Here at Nebula, we take great pride in our extensive database of veteran astrologers and psychics who go the extra mile to read your love signs based directly on the positions of planets at the time of your birth. They understand the relationship between those zodiac signs and how to use them to find you the perfect match in life.
What Makes Our Experts Special?
They have extensive training in reading zodiac signs and offering love compatibility analysis. For their precise and in-depth love compatibility analysis, our professionals combine astrological knowledge from the past with modern techniques.  
Birthdate Compatibility Calculator
One of the best reasons to trust Nebula for horoscope and zodiac sign compatibility test is the availability of our birthdate compatibility calculator.
Find The Quality Stuff
Understand that not every platform offering compatibility test zodiac signs come with a zodiac compatibility calculator as accurate as the zodiac compatibility calculator at Nebula.
Witness the Ease of Use
It is an extremely simple-to-use calculator that delivers results in no time. Whenever you feel confused, you can use that calculator and get the zodiac compatibility calculator percentage to make a decision.
Experience the Diversity
The best part is that you can find unique options, like a parent child zodiac compatibility calculator as well as a zodiac compatibility calculator for marriage and love. Pick what you need and you will be amazed with its accuracy!
Personalized Service
The availability of a love sign compatibility calculator is an impressive feature, but we also provide you with a more personalized compatibility zodiac test that no calculator can match.
Astrology is a fine art based on planets and their positions, and only a qualified and experienced person can understand those nuances. That is why we tailor our reports of your compatibility with your relationship to you specifically.
Witness the Versatility
Nebula's love compatibility and horoscope reports take into account the unique elements of your individual and combined astrological profiles, as opposed to generic reports that offer one-size-fits-all interpretations.
Gain Accurate Insight!
With this method, you can rest assured that the information you receive is correct and applicable to your unique circumstances and current relationship status.
User-Friendly Interface
Learning about love sign astrology ought to be thrilling and not frustrating. Nebula's straightforward design makes it simple to acquire a personalized Zodiac compatibility analysis.
 A Time-Saving Approach
Ordering, receiving, and evaluating your love and personality compatibility report is a snap.  Just share your date birth and other details to receive your love compatibility and relationship report in no time.
Affordable Pricing
Being able to get a free zodiac compatibility test is yet another impressive benefit of using the love astrology service from Nebula.
Experience the Affordability
Anyone can gain access to a birthday compatibility calculator to get quick relationship guidance. But, we also have various affordable plans to help you order detailed readings that no zodiac sign compatibility calculator can offer. 
Exceptional Customer Support
Your satisfaction is our number one goal. We aim to provide not only first-rate astrological services, but also first-rate assistance to our clients.
We have a team of people that are always available to help you out and respond to your inquiries and issues. Our goal is to make your experience with Nebula stress-free and rewarding.
Enjoy Secure and Detailed Zodiac Compatibility Analysis with Nebula!
For many generations, people have looked to the stars for direction; today, with Nebula, you can do the same.
Learn how Nebula can help you improve your relationships and understanding of yourself through the power of Zodiac compatibility.
Join us today and begin your astrological adventure.
The Nebula family is happy to have you!
Help